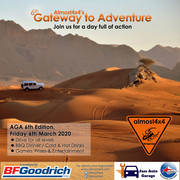 Dear Members
We would like to invite you to join us in the 6th edition of Almost Gateway to Adventure - AGA 6.0, a fun-filled day of activities and games, and your family and friends are most welcome to be our special guests!
Date: 06-Mar-2020
Venue: Basata Camp - RAK
Meeting time 1:30 pm
Drive start 2:00 pm
Camp opens 4:30 pm
Event finishes 9:00 pm
First option It will start with a drive in the desert for all levels, taking us to a beautiful camp site where you can enjoy the experience of camel riding, henna, refreshments and DJ music. Our Almost4x4 Crew will run an interactive and entertaining program including games, shows, and competitions with gifts, and we will end this day with a quality desert gathering dinner to mark the event.
Second option for our members who want to join the camp directly can join around 4:30 PM
Tickets available from 08-02-2020
1. Adult : 100 dhs
2. Kids below 8 years are free.
For Ticket Sale please contact:
Dubai:
Hamzah +971559793443
Johanna +971582980490
Sharjah:
Mohanad +971509969313
RAK:
Booy +971568082845
For registration , Please follow this
https://almost4x4.com/trip_system/trip2.php?id=898